Our company
We are Kanak Metal & Alloys is a predominant player in the global market for manufacturing and exporting of Alloy Steel Round Bar.
Huge Stock of Alloy Steel materials in all grades, sizes and thickness and product quality supported with efficient after-sales service has been the key driver to the growth of Kanak Metal & Alloys.
Mission
Our mission is very clear - provide best and fully tested products and solutions for our customers.
We Provide technically sound solutions and create additional value in mutual interest with our customers resulting in being a preferred manufacturer
Why us?
We provide high range products with superior quality and customized solutions
We maintain our high standards of after-sale services. Our belief is to provide customized packaging and follow a timely delivery schedule. We contribute to the growth story of India's economic development by supplying Quality products
---
Company Profile
Kanak Metal & Alloys is a leading Manufacturer, Exporter & Supplier of High-Quality Alloy steel, Die Steel, Carbon steel and Spring Steel Round Bar
Offering an extensive range of products. The detailed properties of Round Bar formed, meet the most stringent requirements. As for ourselves, you may be aware that we are one of the foremost suppliers of manufacturing raw-materials to highly cultured Engg, Chemical, Fertilizers, Paper, Petrochemicals, Pharmaceuticals, Refineries, Food, Automobile and other associated industries all over India. Our company was established in 2001 in a diffident way and has now grown into a big organization due to our sincere services and dependability on our esteemed customers.
We are regular suppliers of said items to various Govt., Semi-Govt., Public and Pvt Organizations. We have our direct import from South Korea, Mexico, USA, and Gulf countries, etc., which are mainly used in the Auto Mobile Industry.
We are ISO certified 9001:2005, known for our quality management system. AS AN ISO 9001: 2008 WE ADHERE TO STRICT QUALITY CONTROL AND HAVE DEVELOPED OUR IN-HOUSE QUALITY CONTROL PROCESS. THESE PROCESS INVOLVES THE USE OF FAMOUS TOYOTA PRODUCTION SYSTEM METHODS LIKE KANBAN SYSTEM, POKA YOKE AND JUST IN TIME.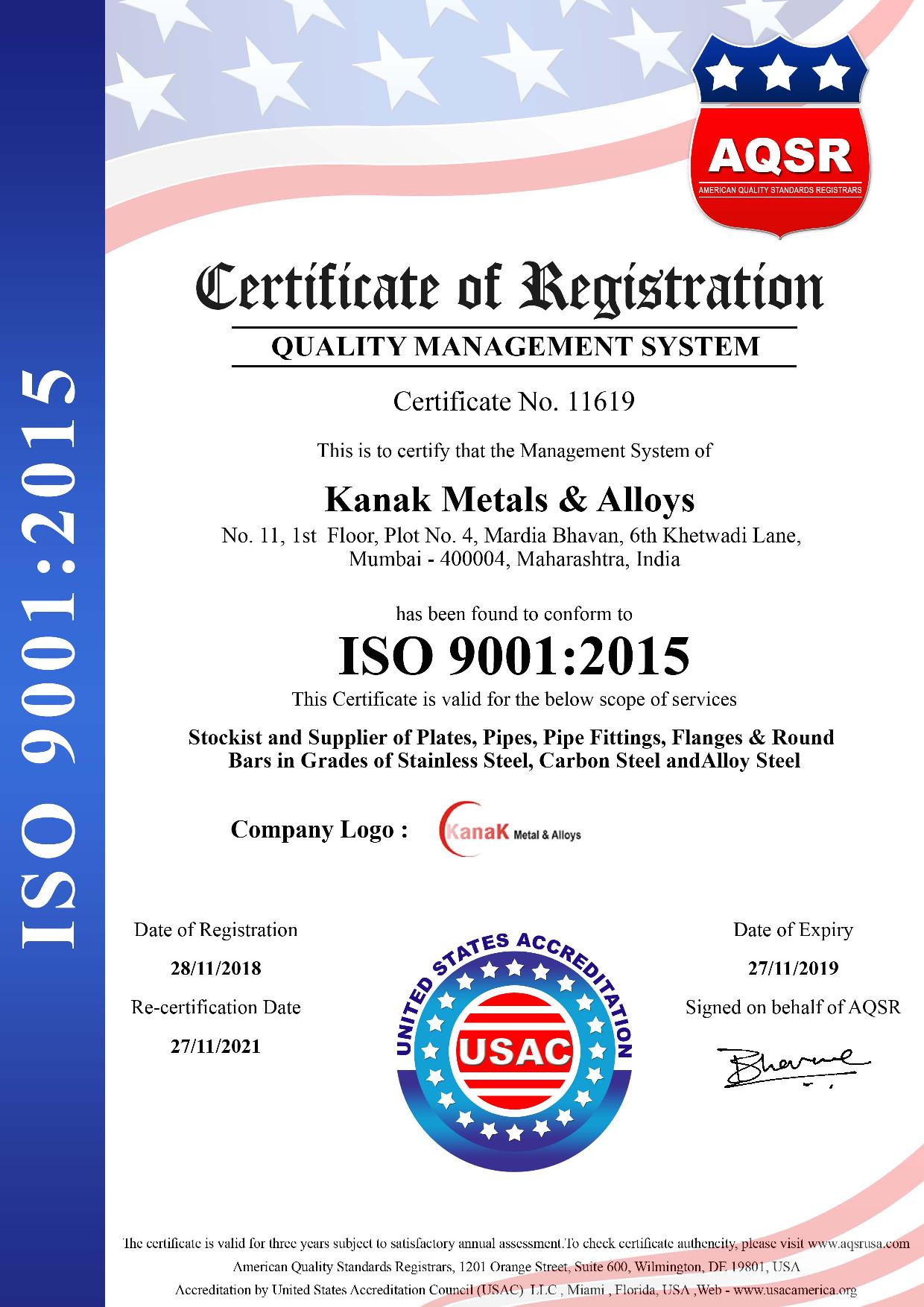 35
Countries
---
Our Products are been delivered to various countries worldwide.
45
Products
---
Numerous types of products are available in various grades and dimenisons
19
Years of experience
---
We are serving the Industrial products since 2001, which gains trust among clients
---
---
Check our Products
We provide a wide range of products of Round Bar
Alloy Steel Round Bar

The Alloy Steel Round Bar we provide are machine-made by using groundbreaking techniques and exclusive grade of raw materials. Depending upon their needs, our customers can get benefit from our variety in unalike lengths and widths.

Carbon steel Round Bar

Our CS Round Bar are reachable to our valuable customers in different and modified range of diameters, wall breadths and sizes at market leading prices. The given range is made-up utilizing high grade raw mechanisms along with other ingredients and most advanced technology.

Die Steel Round Bar

Kanak Metal & Alloys utilises high-quality Die Steel to make Round Bar. We polish the Round Bar with anti-corrosive compounds to keep it from rusting. Our Die Steel Round Bar is available in a variety of lengths, thicknesses, and diameters to meet the needs of our customers.